Williams Syndrome
The Salk Institute for Biological Studies, founded in 1960 by Dr. Jonas Salk, is one of the world's foremost non-profit institutions conducting basic research dedicated to the improvement of human health. With the encouragement of Dr. Salk, Dr. Ursula Bellugi established the Laboratory for Cognitive Neuroscience (LCN) at the Salk Institute in 1970. The LCN had already become well known for its pioneering studies of sign languages and their representations in the brain when, in 1985, Dr. Bellugi undertook the study of Williams syndrome (WMS) at the request of a mother whose daughter had WMS. When Dr. Bellugi began this groundbreaking work in the study of WMS, there were only 60 known families in the U.S., and there was virtually no information available as to the special profile of persons with WMS.
The study of Williams syndrome has greatly expanded over the years. There are now three different agencies at the National Institutes of Health (NICHD, NIDCD, and NINDS) supporting such research at the Salk Institute alone. The outstanding National and Regional parent groups are also working closely with researchers across the country. There has been a dramatic leap forward in research to the point where we are now conducting multidisciplinary studies utilizing neuropsychological assessments, brain imaging, and molecular genetics, among other tools, to gain a comprehensive understanding of WMS. It is exciting and gratifying to contribute to this increase in awareness and knowledge of WMS.
In addition to conducting ongoing studies of cognition involving infants, children, adolescents and adults with WMS, Dr. Bellugi coordinates a large-scale multi-site Program Project sponsored by the National Institutes of Health. In collaboration with prominent researchers such as Julie Korenberg, MD, PhD (Cedars-Sinai Medical Center), Albert Galaburda, MD, PhD (Harvard University), Allan Reiss, MD (Stanford University), and Debra Mills, PhD (Emory University), this project examines Williams syndrome from a multidisciplinary perspective using new and noninvasive techniques to explore the relationships between genetics, brain structure, and brain function, and cognition. These new techniques provide noninvasive "windows on the brain" that open up a whole new world of understanding of the mind and brain in WMS, leading to better ways of helping people with WMS reach their full potential.
With these new tools, we are forging links between domains of cognition—language, affect, memory, attention, spatial, social, and musical abilities—and their underlying brain systems and molecular genetics. The National Institutes of Health called this project "one of the most significant and truly exciting studies in the cognitive neurosciences — representing pioneering work in establishing brain behavior-genetic relationships which, until now, have been a largely unrealized aspiration." Individuals with WMS who participate in these studies help to advance the frontiers of human knowledge.
We work closely with the Williams Syndrome Association (WSA), an organization devoted to improving the lives of individuals with WMS and their families, for which Dr. Bellugi has served on the National Advisory Board since its inception. We have participated in every national WSA conference since the beginning, sharing the results of our research, in the form of talks and symposia, with parents, educators and professionals. In addition, we work in collaboration with parent organizations to organize regional and national conferences, and have hosted the National/International WSA Professional and Family Conference, as well as the Far West Regional WSA conference.
Our laboratory at the Salk Institute, working together with San Diego Children's Hospital and Health Center and the University of California School of Medicine, has established a Williams Syndrome Resource Clinic, bringing together specialists in genetics, neurology, endocrinology, cardiology and other disciplines, to help families find comprehensive health care that meets their special needs.
Research on Williams syndrome in Dr. Bellugi's lab has been a collaboration between families and researchers. We are committed to sharing our work with the Williams syndrome community, working with the National and Regional Williams Syndrome Associations to share ideas and information. We actively work towards this goal by publishing in scientific and medical journals, presenting at scientific and public forums (over 200 papers and presentations from our lab to date), writing for the WSA newsletter, and helping with media projects that put Williams syndrome in the public eye. Recent programs include Scientific American Frontiers "Growing up Different", as well as "The Nature of Human Nature" and "The Social Brain," "Music and the Brain," "Don't Be Shy, Mr. Sachs," and an episode of "60 Minutes" and a recent article in the New York Times Magazine, "The Gregarious Brain." Our research has received the IPSEN Prize in Neuronal Plasticity and the Distinguished Scientific Contribution Award, a tribute to the increased interest in and knowledge about Williams syndrome.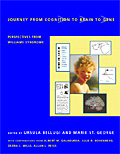 We published the first book on Williams syndrome, Journey from Cognition to Brain to Gene: Perspectives from Williams syndrome, which is dedicated to the individuals with Williams syndrome and their families who have contributed so much of their time and effort to our research. As a gesture of our gratitude, the proceeds from this book are directed to the Williams Syndrome Association.
We invite you to contact us to learn more about participating in our ongoing multidisciplinary research studies. You may reach us at the Laboratory for Cognitive Neuroscience by calling (800) 434-1038 or e-mail us at lcnwilliams@salk.edu or speak directly with Yvonne Searcy or email her at searcy@salk.edu.