Dr. Ursula Bellugi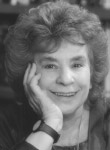 Dr. Ursula Bellugi is Professor at The Salk Institute for Biological Studies and Director of the Laboratory for Cognitive Neuroscience. Dr. Bellugi is also Adjunct Professor at UCSD and SDSU, and an Associate with the Sloan Center for Theoretical Neurobiology. Much of her research is in collaboration with her husband, Edward S. Klima. Both have doctorates from Harvard University and they have received many awards for their research, including two MERIT awards from the National Institute of Child Health and development, a Neuroscience Investigator Award from the National Institute on Deafness. Drs. Bellugi and Klima have been awarded the Distinguished Scientific Contribution Award from the American Psychological Association. Dr. Bellugi has also received the Foundation IPSEN Prize in Neuronal Plasticity, together with Torsten Wiesel and Wolfgang Singer.
Dr. Bellugi has served on an Advisory Council to NIH, and is an Associate of the Neurosciences Research Program as well as the Dana Brain Alliance; she is an associate of the Neurosciences Group, the Cognitive Sciences Program, the Institute for Neural Computation, and the Institute for Molecular Medicine. She gave a Special Presidential Lecture at the Society for Neurosciences on her research, and has presented keynote and named lectures in many different countries. The research has been presented to Congress as part of the Decade of the Brain and at a recent symposium on Genes, Brain and Cognition.
Bellugi and Klima's research is focused on the biological foundations of language and other cognitive functions and their genetic basis. Research projects include studies of "Language, Modality and the Brain;" "Brain Organization: Clues from Sign Aphasia;" "The Cognitive, Neural and Genetic Bases of Social Behavior;" *and "Williams Syndrome: Bridging Cognition, Brain and Gene." Bellugi and Klima have co-authored several hundred papers and books including The Signs of Language (which won an award from the Association of American Publishers) and What the Hands Reveal About the Brain as well as the recent book Journey from Cognition to Brain to Gene: Perspectives from Williams Syndrome (which has been nominated for an award). Bellugi has organized symposia on Neurobiology: Brain and Cognitive development; Cognition, Brain and Gene; Genetic Syndromes of Contrasting Cognitive Profiles. These studies permit the exploration of some of the central issues of cognitive neuroscience linking cognitive functions with their bases in neurobiology and gene expression.