Contact Us & Directions
The Salk Institute for Biological Studies
Laboratory for Cognitive Neuroscience
10010 N. Torrey Pines Road
La Jolla, CA 92037
1-800-434-1038
Hours: 9:00 AM - 4:30 PM
View Larger Map
The Salk Institute overlooks the Pacific Ocean just west of the Unversity of California San Diego.
Driving Directions To The Salk Institute
Use Interstate-5 (I-5)
Take the LA JOLLA VILLAGE DR exit- EXIT 28B
Turn WEST onto LA JOLLA VILLAGE DR.
LA JOLLA VILLAGE DR curves to the right and becomes N TORREY PINES RD.
End at Salk Institute (on your left side)
Pull into the parking lot nearest to North Torrey Pines Rd and ask the Security Guard to direct you to the LCN Reserved space. The Guard can also direct you to the lab, which is located on the first floor in the building nearest North Torrey Pines Rd. and Torrey Pines Scenic Drive.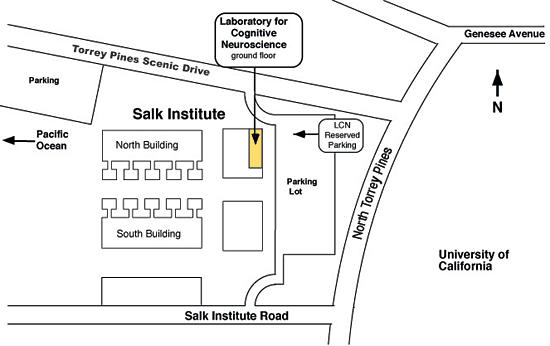 Entrance to the Lab:

Taking the Bus:
The Salk Institute is conveniently located next to the bus stop for the 101. Just tell the bus driver to stop in front of the Salk Institute.
For more information on how to get to the 101 from your location, check out the MTS Online Transit Information System website.
Participate in Our Research:
If you have questions, would like more information or would like to participate in our research please fill out the contact form and we will get back to you.